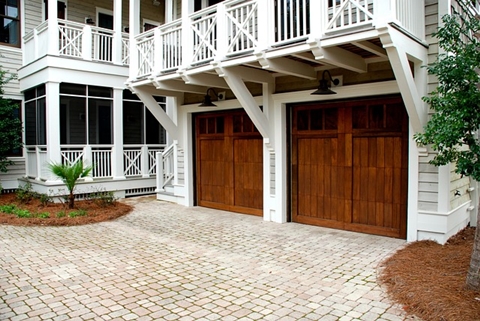 All to often when a homeowner has a garage door that fails, they call around and usually shop by price. Well price alone is not the best way to replace a garage door. On average, garage doors last a long time and when a garage door does fail, it is the best time to pick a replacement based on all the best information available because once that garage door is replaced, it might be a long time before you have to do it again. So your choice should be made on many factors.
The best type of garage door for replacement depends on several factors, including your personal preferences, the style of your home, and your budget. Here are some popular options:
Steel garage doors: Steel garage doors are durable, low-maintenance, and energy-efficient. They come in a variety of colors and styles, making it easy to find a steel door that fits the look of your home.
Wood garage doors: Wood garage doors are a popular choice for homeowners who want a classic, traditional look. They are also very customizable and can be stained or painted to match the color of your home. However, wood garage doors require regular maintenance to keep them looking their best.
Aluminum and glass garage doors: Aluminum and glass garage doors are a modern and stylish choice. They are lightweight and low-maintenance, and they allow natural light into the garage.
Fiberglass garage doors: Fiberglass garage doors are a popular choice for homeowners who want a low-maintenance and energy-efficient option. They are also resistant to dents, corrosion, and rust.
Ultimately, the best garage door for you will depend on your specific needs and the look you want to achieve for your home. It is recommended to consult with a professional garage door contractor to determine the best option for your home. That's where Michigan Door Maintenance can help you make the correct decision. We have been in business for over 35 years.  Michigan Door Maintenance is fully licensed and insured for replacement service you can depend on and we service most of the lower peninsula of Michigan. And because of our focus on offering the best quality products and services for a fair price, we have grown to serve most of Michigan's lower peninsula. We stand behind our garage door products and services by offering a one year install warranty on our door and opener installations. And because we only use the highest quality spring replacements our warranties on springs range from 2 to 6 years with a few that include a lifetime spring warranty against breakage.Contact Michigan Door Maintenance today at 989-529-DOOR (3667) and have them help you purchase the best replacement garage door. Whether you have a problem with your garage door or with your garage door opener, we have the know-how for all your garage door maintenance and service needs.
Michigan Door Maintenance has expanded our service locations to include Crawford, Otsego, Cheboygan, Oscoda, Montmorency, Presque Isle, Emmet, Charlevoix, Antrim, Alpena, Grand Traverse, and Kalkaska Counties.